Almost a year ago, we set out to find the winner of the Six Word Wonder Contest 2020. The idea came from a desire to celebrate the launch of Six Word Wonder by Doug Weller, and encourage people to try writing their own six word stories.
The purpose of the Six Word Wonder contest 2020 was to discover fresh new Six Word Wonders. You can enter the new Six Word Wonder contest here.
To recap, a Six Word Wonder is a story, poem, memoir, or joke, written in only six words. It is an opportunity for anybody to be creative through language.
Your responses were phenomenal. We had more than 1000 entries! We saw stories of darkness and light, of humour and genuine seriousness. Exactly what you would expect from a great six word wonder.
But there can only be one winner.
Observations on choosing the Winner of the Six Word Wonder Contest 2020
Before sharing the winner, a few observations from the judging. There were a vast variety of stories, memoirs and jokes, ranging across genres from romance, to horror, right through to philosophy and poetry.
The best examples shared a few things in common:
• Drew a definite emotional response – you could feel the story jumping from the page.
• Featured beauty, suspense, or surprise – in just six words.
• Included strong verbs and interesting nouns – really leveraging the power of our language.
• Took the reader on a journey, even if they needed to fill in the blanks – part of the beauty of many of these stories is their multiple interpretations.
• Used only six words! – you'd be surprised how challenging it can sometimes be to count to six. Maybe its because we only have four fingers and a thumb on each hand.
A huge thank you to everyone who entered. Your creativity and constant experimentation with the six word form was really something marvellous to behold.
And for those keen on creating more six word stories, there is a Six Word Wonder 2021 contest to enter!
Winner of the Six Word Wonder Contest 2020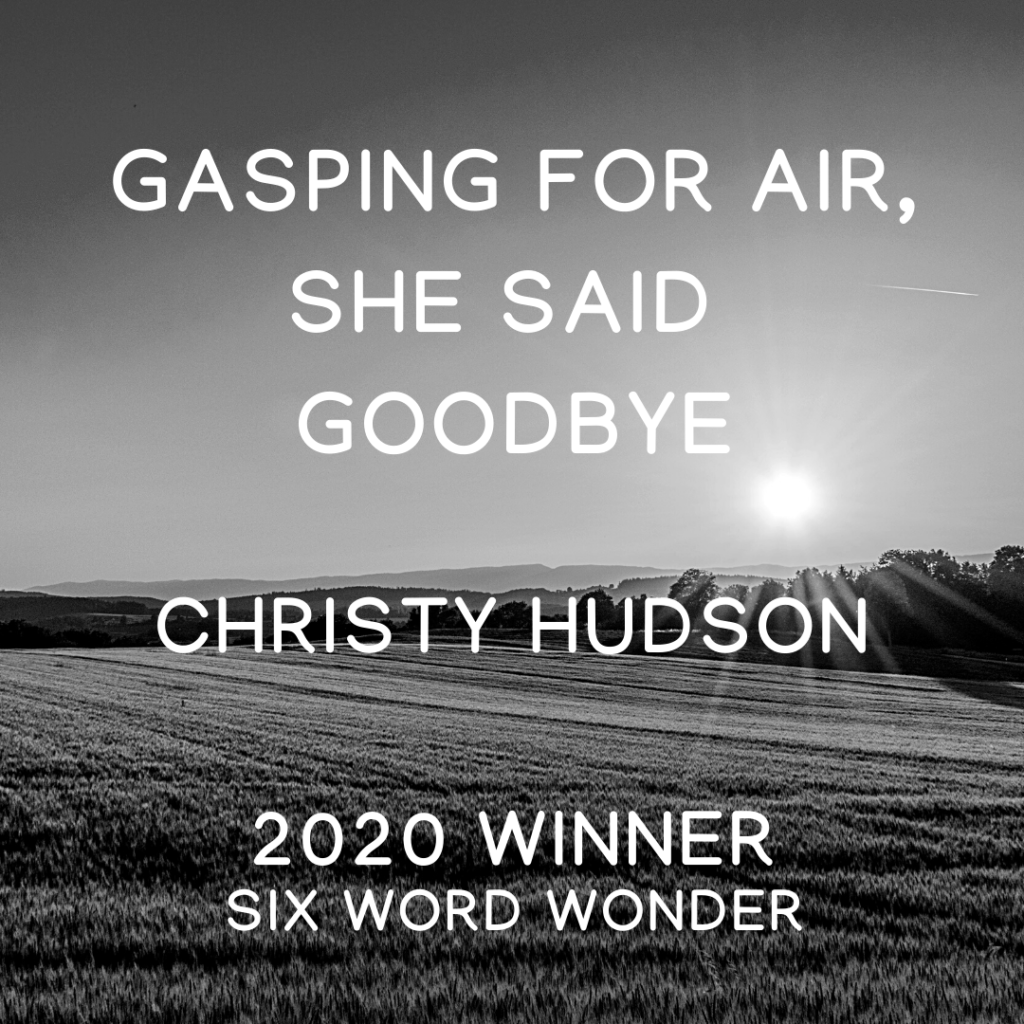 Read an interview with the winner – Christy Hudson
Comments from the judge – Doug Weller – on the Winner of the Six Word Wonder Contest 2020
Christy Hudson's six word poetry grabbed me. The first three words are a tremendous hook. And the punch of the second half of the story really thumped me in the stomach. That emotional response was unmistakable and made it difficult for me to forget this stories as I read through others. I found myself thinking about the story that night, and on into the next morning.
By the end of the six words, you move from shock to sorrow.
The story seemed to be gut-wrenchingly relevant to anyone living through 2020. The whole world is living through the worst pandemic in 100 years, and this story sums up in a few tiny words how much tragedy is wrapped in that event.
The story really shows how in a few short words you can evoke a location, character, and a powerful drama unfolding.
This is what a six word wonder can do – through poetry and story it can be a key to unlock a larger truth.
This was a sterling effort from Christy, and a worthy winner of the Six Word Wonder Contest 2020
Become the next Winner of the Six Word Wonder Contest
Think you can do better?
You can enter up to five six word stories, poems, memoirs, or jokes to the new six word wonder contest. Entry is free, and you could with $100 and get published in the next book in the six word wonder series.
You can read the winning story, and many more, in the new book – Six Word Story by Doug Weller. Available now on Amazon.