If you are looking for a wonderful example of a six word story, we've gathered a collection of some great examples.
Why not enter the Six Word Wonder contest – write your own six word stories, get published, and win $100
To recap, stories in six words are a special mix of poetry and storytelling. You are confined to just six words and punctuation to share an idea, an event, a moment with the reader. There is a famous story of Hemingway originating the form, but really it dates back to when a scribe first wrote "In the beginning, there was light."
What makes a great example of a six word story?
Six word stories can be dark, light, funny or tragic. Much like life. For a six word story to really stand out there are a few elements that must be in place.
The story makes sense to the reader.

It's okay for the reader to work a little harder than usual to understand the meaning of a six worder. In fact, that can be part of the fun. But there must be a meaning in their somewhere.

The story takes the reader on a journey.

By definition, you want to tell some kind of a story. But a six word story is really more about taking readers from one place to another. That could be a beginning to an end. But it also might be an expectation to a surprise or punch-line, similar to a joke. Or it could be from feeling nothing to feeling something. It could even be rhetorical question that the reader answers in their head.

The story leaves the reader with an emotion.

All story telling is about emotion. A six word story might be clever for its own sake, like wordplay. That should give a reader satisfaction from recognising the skill of the words. Or it might tear at the heart strings or tickle your tummy. Six words can make you feel.
Here are a few examples of six word stories written by famous authors.
Marley was dead. To begin with.

Charles Dickens
For Sale: Baby Shoes. Never Worn.

Attributed to Ernest Hemmingway
Found true love. Married someone else.

David Eggers
To be, or not to be?

William Shakespeare
It was dark inside the wolf.

Margaret Attwood
This example of a six word story above plays with our expectations. We all know the story of Red Riding Hood, but have we ever thought what it must have felt like at the moment she was gobbled up.
Lovely spring weather. Bubonic plague raging.

Evelyn Waugh
Starlet Sex Scandal. Giant squid involved.

Margaret Attwood
New genes demand expression. Third eye

Greg Bear
In the beginning, there was light.

The Bible
This is the oldest example of a six word story that I'm aware of. Opening lines often make excellent moments to kick off a whole novel or non-fiction with six words that pack a punch. And what is a more perfect story than a journey from darkness to light.
Fifteen years since last professional haircut

David Eggers
Well, I thought I was funny.

Stephen Colbert
Longed for him. Got him. Shit!

Margaret Attwood
Don't put that in your mouth.

Morgan Spurlock
These violent delights have violent ends.

William Shakespeare
Never, ever refuse a breath mint.

Lemony Snicket
Think and wonder. Wonder and think.

Dr Seuss
Six word stories pop up in music from time to time. Here, I've tried to capture a few of the best examples.
You've got a friend in me.

Randy Newman
Guess what? I'm not a robot.

Marina and the Diamonds
It's been a hard day's night.

The Beatles
Six Word Story examples from Reddit
Reddit is a wonderful repository of the six word form. Here are a few of my favourites from r/sixwordstories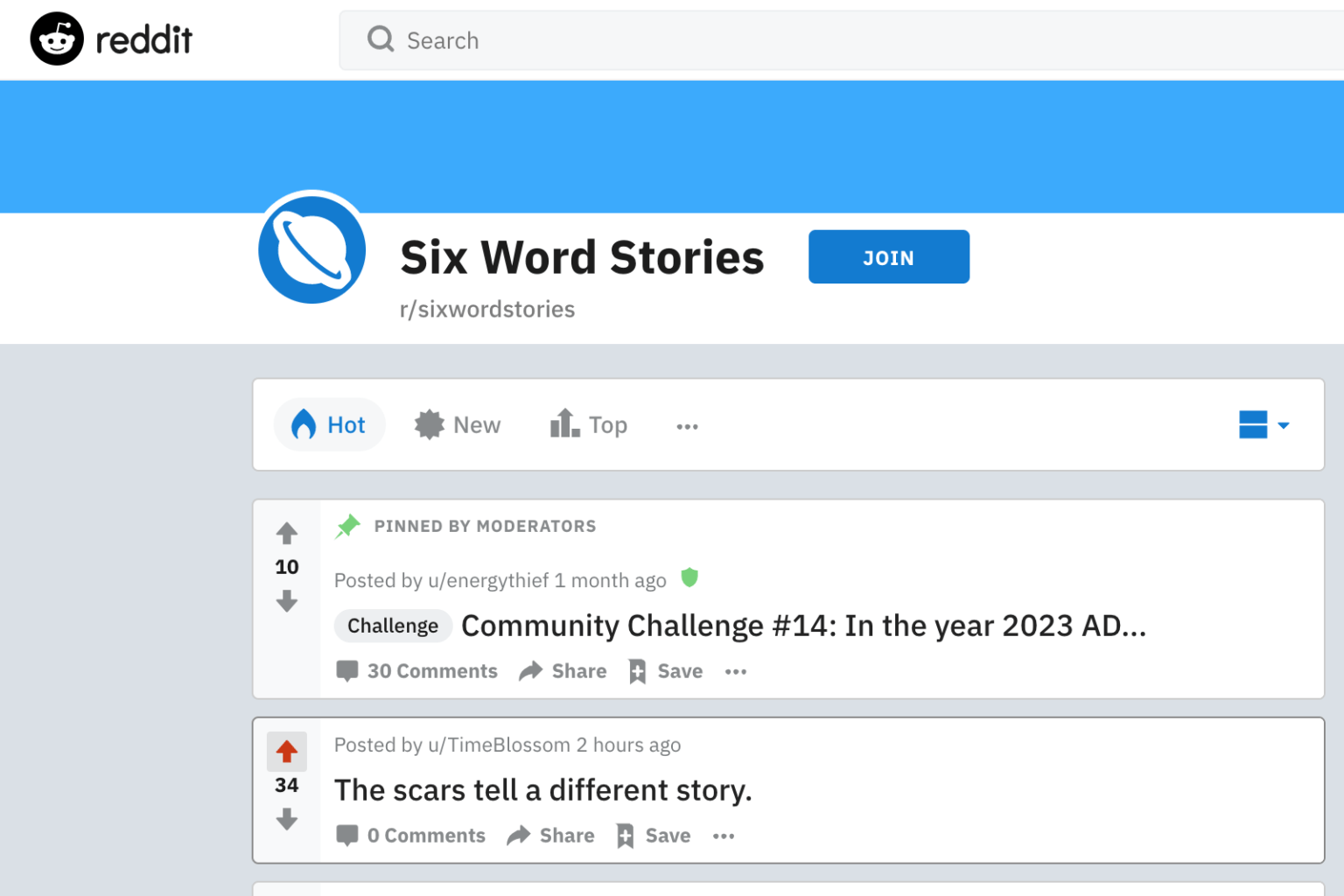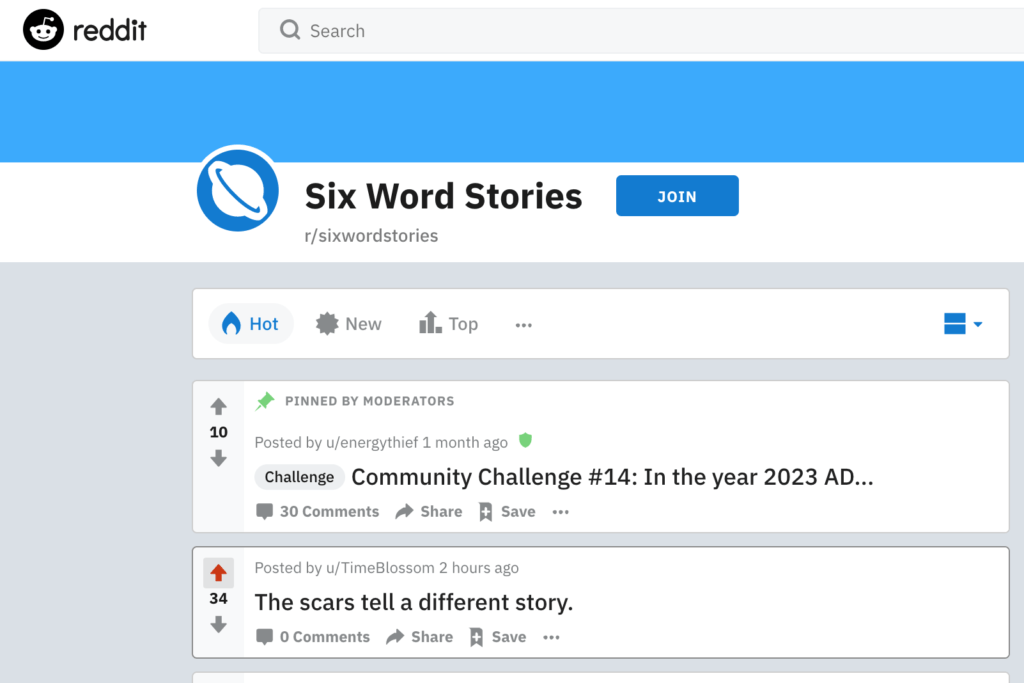 Goodbye mission control. Thanks for trying…

/[deleted]
He bottle-feeds his wife's killer.

u/charmingmysterious
Six word stories, as you can see from the example above, can deal with very dark issues. This story takes a couple of reads before you fully appreciate what has happened to the husband. No words are wasted in revealing the tragedy.
I have mixed drinks about feelings.

u/iNachozi
I just wrote a great cliffhanger.

u/Guavajava
Unfortunately, haiku possibilities, seldom appear here.

u/mathmeistro
This is a fantastic example of using the six word form combined with the haiku form (five syllables, seven syllables, five syllables) to amp up the complexity and interest.
Tomorrow they'll interview everybody I know.

u/Scream123
Birth certificate. Death certificate. One pen.

u/sixwordsmyth

This example by Techmyst really takes the formatting of a story to it's limited. I love the way it plays with your expectations and really makes you work to decide what's really being said.
Time travellers wanted. Inquire within, yesterday.

u/TimeBlossom
For sale: Engagement ring. Never worn.

u/HighOnAmbien
It purposely failed the Turing Test.

u/JamesIgnatius27
"We'll meet at dinner", said Hannibal.

u/OhSoSorryWrongHole
This story is a fantastic reminder that you can reference other popular culture to short cut to a story punchline. Anyone who has seen or read Thomas Harris Silence of the Lambs will be under no doubt about what's on the menu!
More examples of six word stories
If you're getting into the swing of this now, here's a bunch more stories taken from Six Word Wonder by Doug Weller.
Won a million. Lost her mind.
One bite, and her reflection vanished.
Returned home wounded, but dead inside.
Superman started dating the Incredible Hulk.
Born. Worked forty years. Heart-attack.
Under my bed, he still waits.
None of his unemployment jokes work.
Belly-flopped into pool. Emptied it.
Through the reinforced glass, you apologised.
Here's an example of a six word story where you have to think twice to understand the full meaning.
Ambulance finally arrived. Left without siren.
I kissed her neck. Then pushed.
Married young. Now, she's forgotten me.
One clumsy tweet. International condemnation. Suicide.
Six words can some up a true story. This one was written after a tragic event of somebody being publicly shamed for an unpopular opinion.
Mouse danced 'till old puss pounced.
Regrets? Not wearing a crash helmet…
'Your WIFE called,' hissed his wife.
Typical! Hotel California is fully booked.
Brontosaurus munched, oblivious to massive asteroid.
Trainee wizard expelled for bad spelling.
Spicy puns are ideal in the six word form. This one reminds me of Harry Potter for some reason.
How cold she became by morning…
The old king died. Nobody cried.
Unloved celebrity bought gun. Shooting star.
The killer grinned at the accused.
Her lips were red. Blood red.
Tasted the apple, then got naked!
A riff on the Adam and Eve myth. Sounds like it might have been fun to sink into sin!
First rules. Then uniforms. Then guns.
The final meal was his tongue.
Ted. Underestimated. Elevated. Celebrated. Venerated. Assassinated.
This example of a six word story is a special case. The six words are split into six separate brief sentences. It's especially useful to describe somebody's life story.
The visitors classified me under food.
At work, she blinked… Everybody died.
Urgent flatshare: Professionals wanted. Exorcist prefered.
If you want to read more examples of six word stories, learn more about six word wonder or even enter the six word story contest, follow the link.
And if you'd like to read some more six word wonders, why not check out the books, Six Word Wonder and Six Word Story?