To coincide with the launch of the new book Six Word Stories, I'm delighted to announce the finalist and winner of the Six Word Wonder writing contest 2022.
URGENT: SIX WORD STORIES is on a temporary launch sale. Only $0.99. The book includes all shortlisted stories and the WINNER. Also SIX WORD WONDER and SIX WORD STORY are FREE for the next 24 hours! Jump to the offer here!
What is the Six Word Wonder writing contest 2022?
The contest celebrates the most impactful stories, poems, memoirs, or jokes, told in only six words. Now in its third year, the Six Word Wonder writing contest is a free competition. You can find all about what a Six Word Wonder is here.
The Six Word Wonder contest's ambition was to encourage as many people as possible to experiment with the six word format, and hopefully discover fresh new stories, poems, memoirs, and jokes.
Your response to the Six Word Wonder writing contest 2022 was phenomenal.
More than 3,300 entries were submitted. Entries came from all over the world, from Australia to Zimbabwe, via Uzbekistan, Bosnia, India, and Brazil.
A huge thank you to all who entered. If your story didn't feature, don't be disheartened. There is no rule-book for what a great Six Word Wonder is – it's just a matter of opinion and instinct. Perhaps the best response to any frustration you feel is to grab a pen and write!
What prizes were on offer for the winner of the Six Word Wonder contest?
The top prize for the contest is $100. The winner is named Six Word Wonder 2022. The winner, finalists, and shortlists are all published in an anthology book, Six Word Stories – available to buy now. To celebrate the book's launch, the book is on offer for only $0.99 for a limited period.
The four finalists of the Six Word Wonder writing contest 2022
This year, we selected Six Word Wonder writing contest 2022 finalists under four categories – best story, best poem, best memoir, and best joke.
And the Six Word Wonder writing contest 2022 finalists are…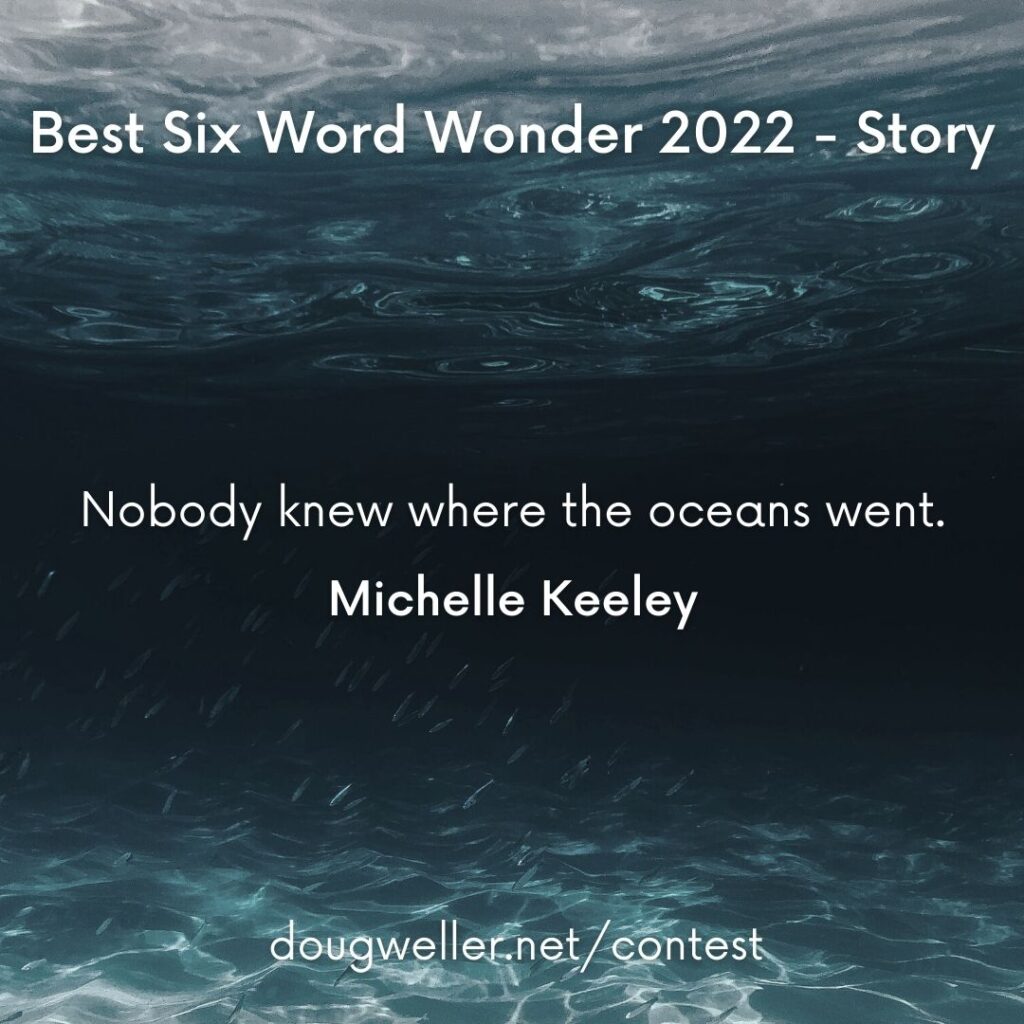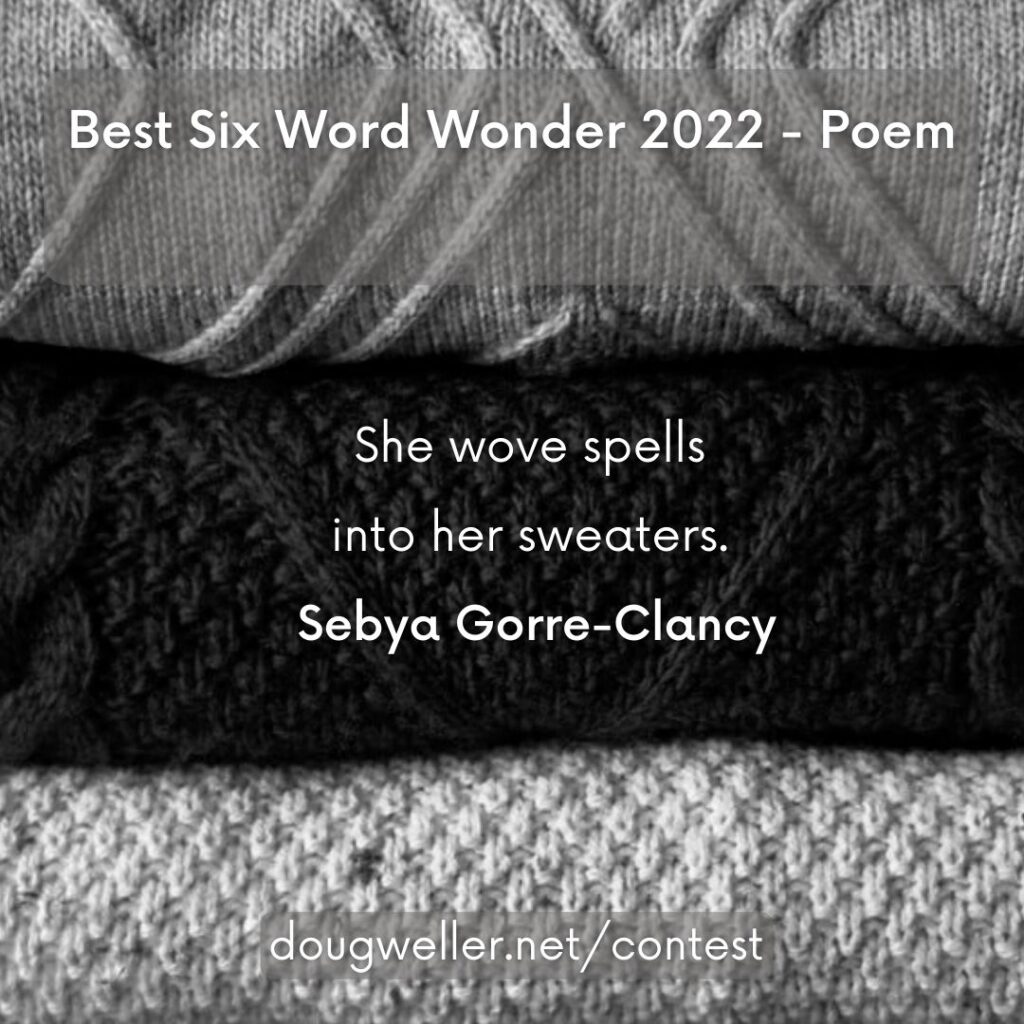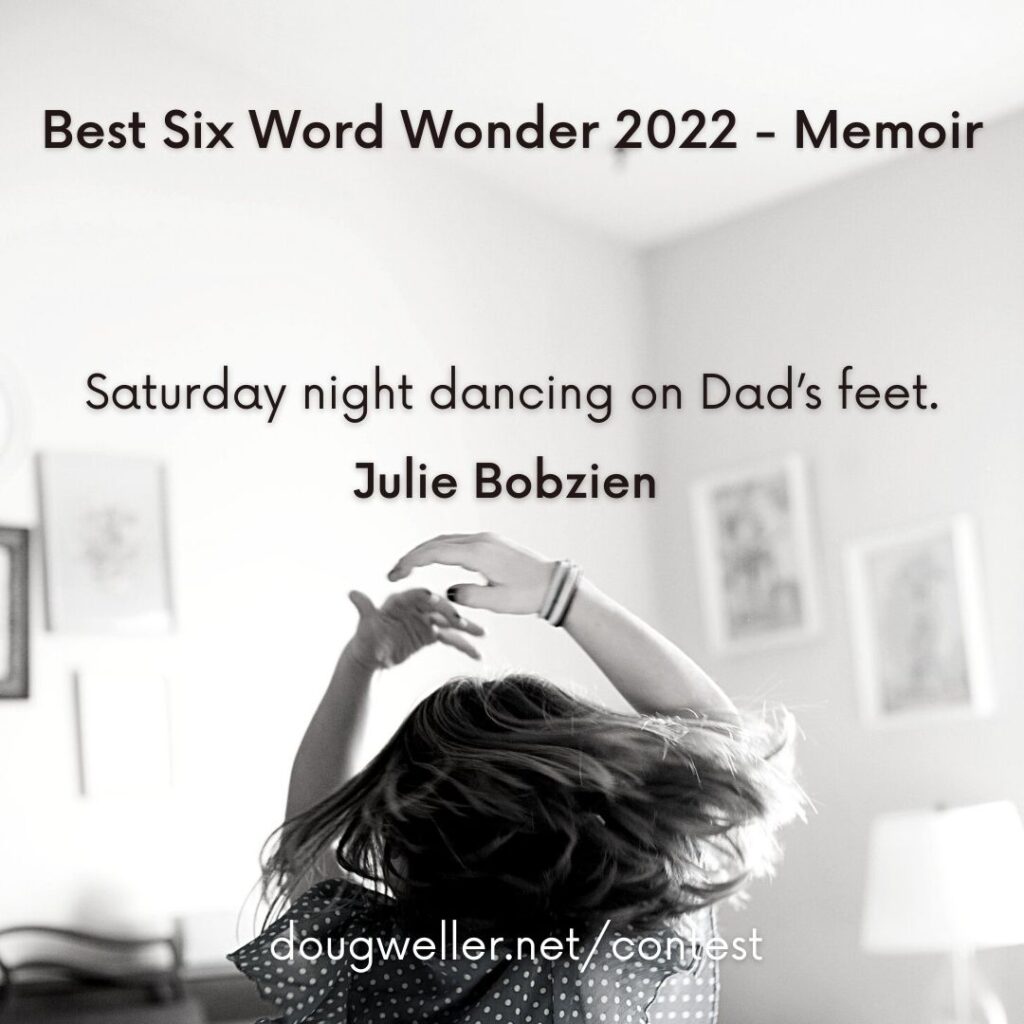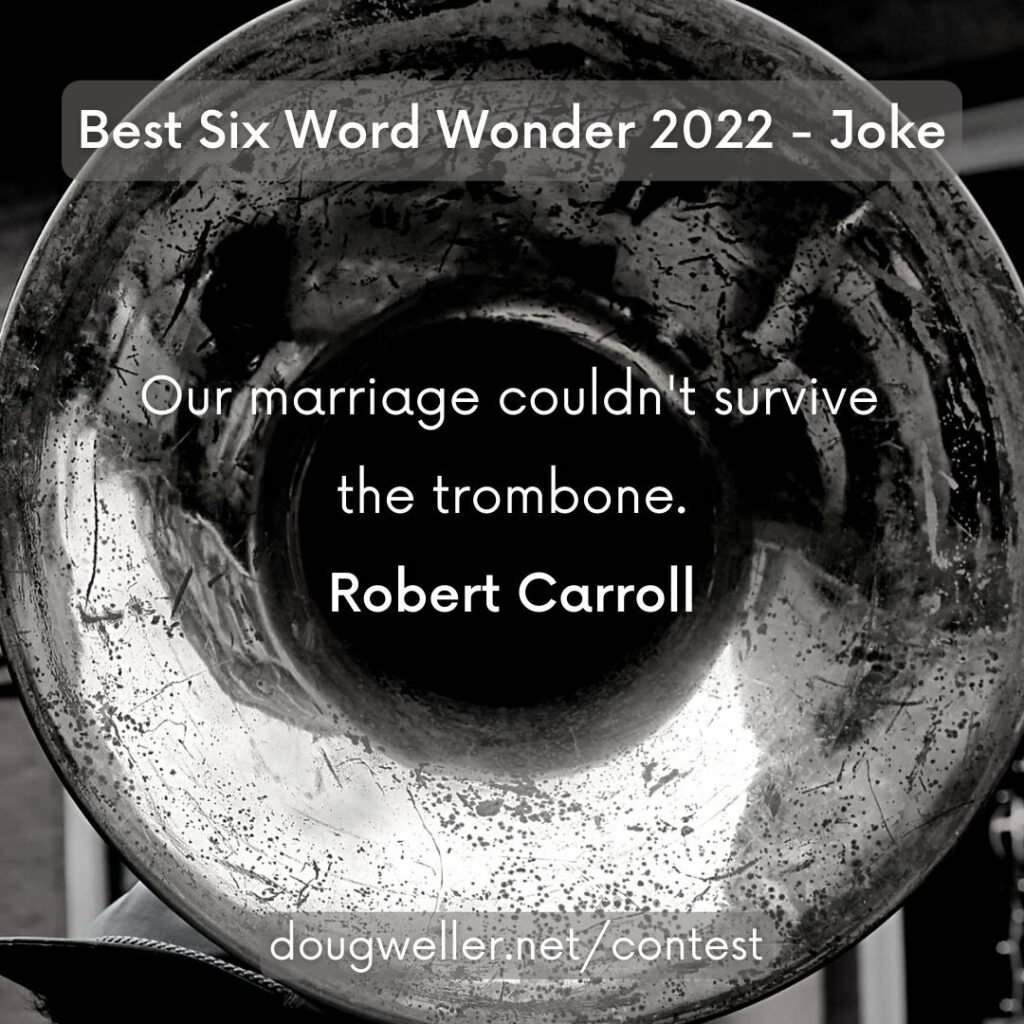 And the winner of the Six Word Wonder 2022 contest is…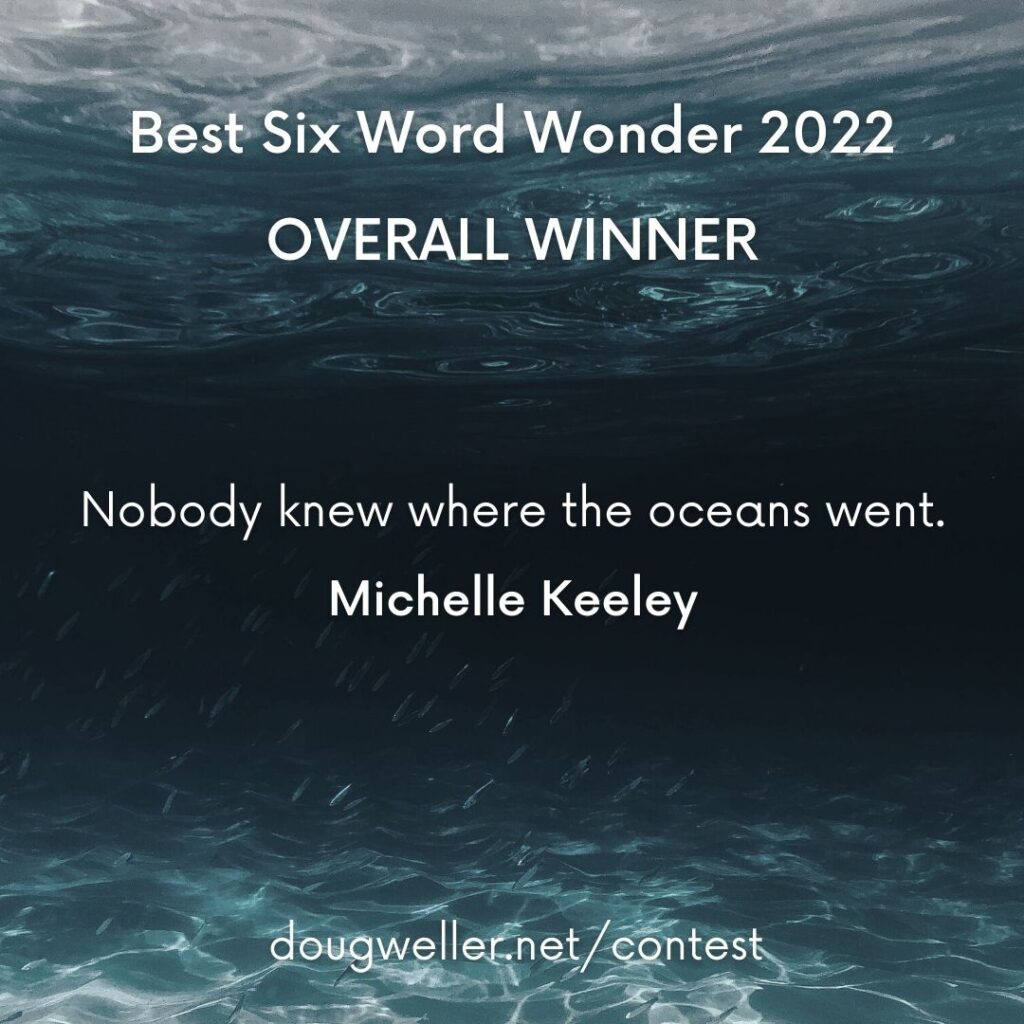 Enormous congratulations to Michelle Keeley, her story really moved the judge. The nightmare scenario that must have occurred and the haunting yet somehow causal reporting of the situation caught the judges eye. In a world where there is so much uncertainly, this sci-fi story felt all too real and disturbing.
Comments from the judging of the Six Word Wonder Contest 2022
There were a vast variety of stories, memoirs, poems, and jokes, ranging across genres from romance, to horror, right through to philosophy and politics. Current themes like the Covid-19 pandemic featured heavily, as did old favourite spins on the classic – For Sale: Baby Shoes. Never Worn.
The best examples of Six Word Wonder shared a few things in common:
• Drew a definite emotional response.
• Featured beauty, suspense, amusement, or surprise.
• Took the reader on a journey, even if they needed to fill in the blanks.
• Used only six words!
And, if you find yourself thinking of the story again and again, it's a great contender.
The winning entry met all these criteria. It seems simple but is truly affecting. Michelle Keeley's story makes you pause for thought, triggering a true emotion.
About the Finalists of the Six Word Wonder 2022 contest
We asked each finalist to share a little bit about themselves, their experience with the contest, and any advice they had for future contestants.
About Michelle Keeley – Best Six Word Wonder 2022 – Story and OVERALL WINNER
Here's what Michelle had to say about becoming a finalist:
I'm from Hertford in the UK. This is my first foray into micro-fiction although I write short stories occasionally. I have two young children so telling a story in six words matches the amount of free time I currently have! That said, my New Year's resolution is to write more.
I love the idea of telling a story in six words, you have to be so considered in your choice to ensure each word works as hard as possible.
In terms of inspiration, I tried to think of the event that would have the most monumental impact but could be conveyed within the restricted number of words. I'm from a science background so climate change also had an influence, our oceans are vastly underappreciated!
My advice for entering the competition would be to focus on an impactful story in your first attempt. Then go back over it and examine each word, consider whether it can be replaced with an alternative that adds more meaning. For example, if you used the word 'capture' you could swap it to 're-capture'. Implying it has happened before gives you more back story without increasing your word count.
About Sebya Gorre-Clancy – Best Six Word Wonder 2022 – Poem
My name is Sebya Gorre-Clancy (she/her) and I was born, raised, and reside in California. I live
there with my supportive spouse, my two kick-ass daughters, my one-eyed dog, a bumped-butt
leopard gecko, a teenage ball python, a baby milk snake and two mischievous rats. I am a
retired nurse and am currently a lead bookseller at the independent bookstore A Seat at the
Table Books where we "build community, uplift the oppressed, and smash the kyriarchy through
the power of books and coffee."
I was inspired to write my Six Word Wonder late one night while reading about magical thinking,
specifically the words of Joan Didion. World news stories were also swimming in the
background of my thoughts and I was thinking of what I had brought my daughters into… this
crazy beautiful harsh world. I wanted to protect them.
I've mostly written short stories and poetry for as long as I've been able to hold a pen. I have
tried some micro fiction at writers conventions a few times and was really inspired by it. I thought
six words would be a good way to challenge myself so it was not my first try but this one was
particularly emotional for me.
I've always been a creative writer but my nursing career got in the way of following my dreams
of writing professionally. Writing is how I process the world around me and the feelings inside of
me. I've never been published unless you count various writing blogs online.
My advice for anyone wanting to write a winning Six Word Wonder is to breathe and allow your
thoughts to settle and focus. There is magic in all of us and if you are open and allow the spells
to weave through the darkness, beautiful things can happen.
You can help support Sebya by supporting aseatatthetablebooks.org – who focus on independent bookstores that focuses on the diversity and inclusivity of their community.
About Julie Bobzien – Best Six Word Wonder 2022 – Memoir

I was born and raised in North Dakota (USA), the second oldest in a family of four girls. My husband and I now reside in a small community north of Sioux Falls, South Dakota. We retired here 4 years ago to live closer to our daughter, son, and four grandchildren. I worked as a registered nurse for 44 years, the last 16 as a hospice nurse – the most difficult, but best assignment of my nursing career.
The story behind my story is one of my fondest childhood memories? Saturday nights, after baths and shampoos, and our hair in tight little pin curls, my sisters and I would don our best dress-up dresses (my Mom's castoffs) and take turns dancing with my Dad while standing on his feet. He'd always tell us how pretty we looked and thanked us for each dance!
This was my first attempt at writing micro-fiction. I guess I just wanted to see if I was up to the challenge to be more concise! I belong to a local writer's group that meets once a month. I write just as a hobby, but I really enjoy writing for this group, and wanted to record some of my fondest memories and family's history.
The only advice I would have for anyone interested in writing a six word story is, just do it! Take on the challenge and enjoy the process.
About Robert Carroll – Best Six Word Wonder 2022 – Joke
Master humorist Robert Carroll has chosen to remain a mysterious winner for now. I hope he's found somewhere quiet to play with his trombone.
Where to read the full shortlist of the Six Word Wonder 2022 contest?
It's the nature of a six word story contest that there are so many awesome, quirky and surprising stories that just scraped being a top winner. The full shortlist of selected Six Word Wonders from the 2022 contest is featured in the new book Six Word Stories, written and edited by Doug Weller. It's on offer at only $0.99 for a temporary period.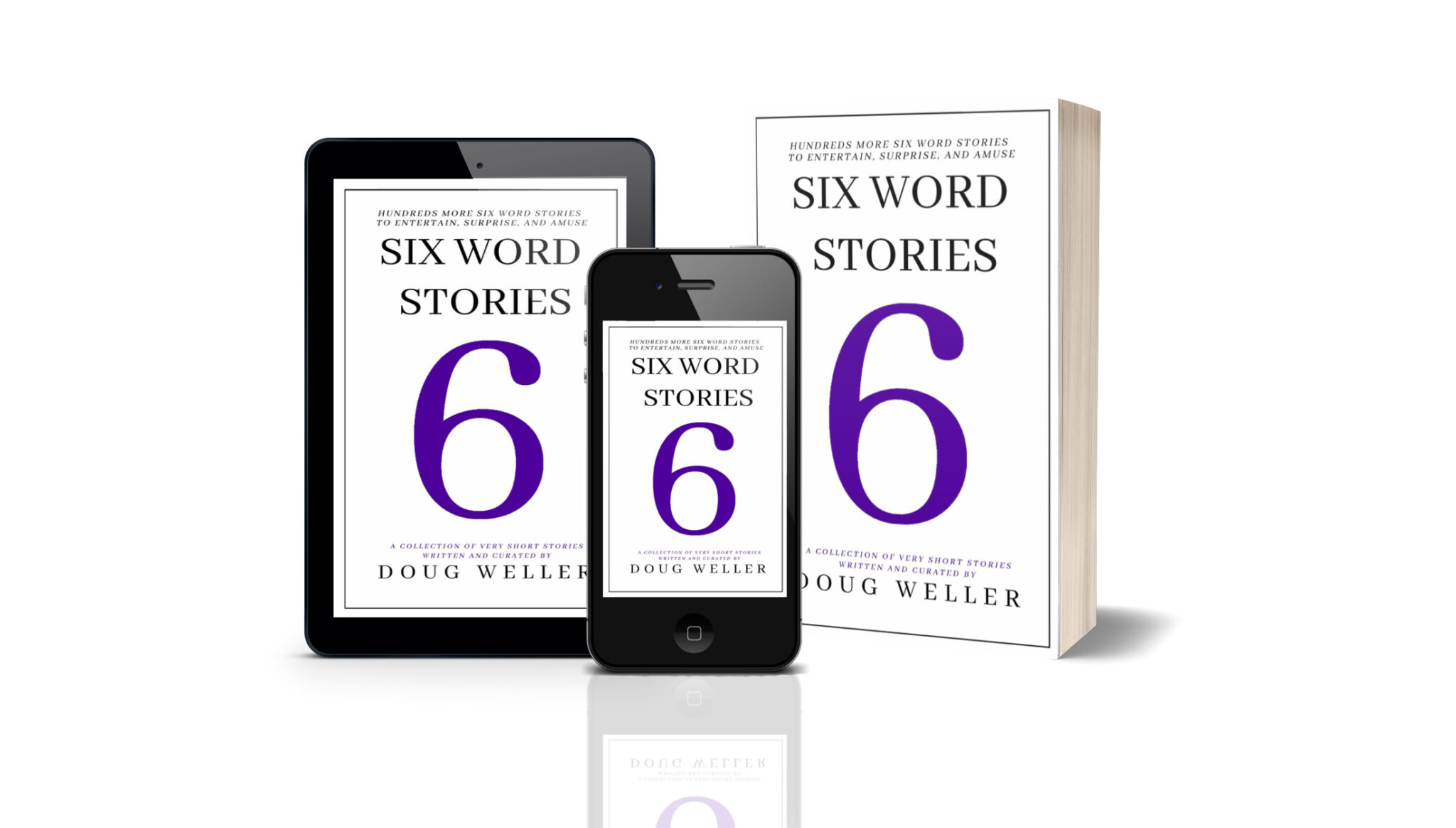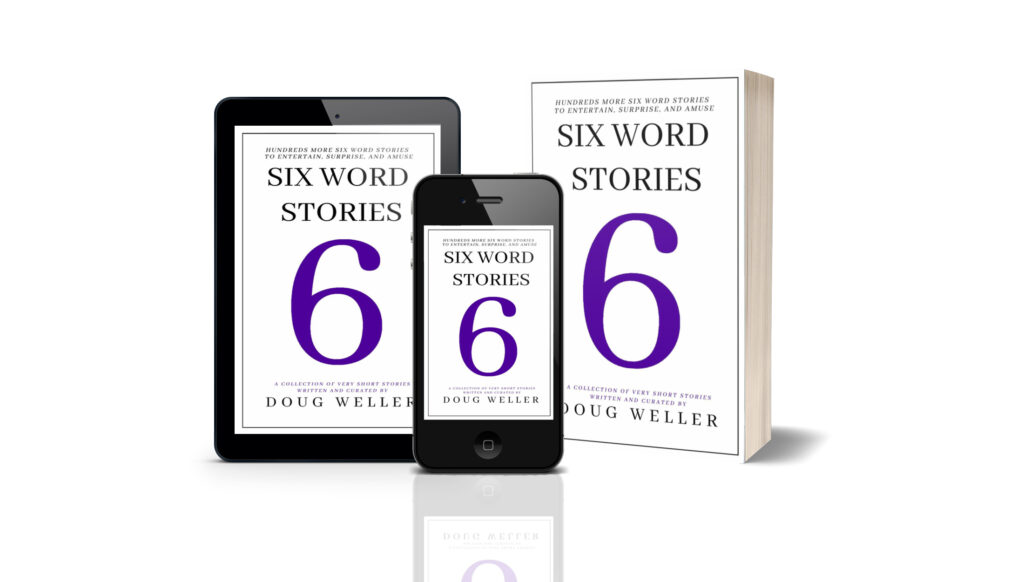 How do I enter the Six Word Wonder writing contest 2022?
For those who missed the opportunity to participate in the 2022 Six Word Wonder contest, the 2023 contest has now been launched to find the best, new six word stories, poems, memoirs, and jokes. Participation continues to be free and every contestant can submit up to six entries. The winner will be named Six Word Wonder, win a cash prize of $100, and get published in the next book in the Six Word Wonder series. Shortlisted stories will also have the opportunity to be published. If you'd like to enter the Six Word Wonder writing contest, you can find all the details here.
You can find the full press release regarding the announcement of finalists and winners for the Six Word Wonder contest 2022 here.